Balloon ONEderland Birthday Party
Our first party post is inspired by one of our dear clients' baby daughter.  Last year we had the pleasure of styling and planning the baby shower for this little lady.  This summer we were asked to create a fun first birthday party with tons (!!!) of balloons.  We quickly thought of a bright and cheery color palette that included bright pink, blue and purple and ultimately inspired a Balloon ONEderland theme!  The party was held at our clients' home on a beautiful sunny afternoon and courtesy of Balloon Artistry, balloons were everywhere!
Balloons are a fantastic alternative for traditional décor, and can be done in a sophisticated style for any age.  We were working with a large outdoor space, so we needed to have specific decorating ideas that would work well in each section but still be cohesive.  We began with the part of the house guests would see first, the long estate driveway.  We wanted guests to feel welcome and intrigued as they entered, so we lined the driveway with beautiful balloon topiaries in the color palette.  The topiaries led to the center of the driveway that had a decorative circle where we put a 10 foot high number one balloon sculpture in bright pink.  Balloon topiaries continued to lead guests to a small tent with a multicolor balloon arch and mylar balloons spelling out the guest of honor's name.
From the small tent, 36" latex balloons with ribbons provided a runway to the backyard where a large tent was placed.  We wanted the kids to really enjoy the balloons so we had about 75 loose balloons tied to golf tees and stuck them in the yard for children to run through and serve as a beautiful photo backdrop.  Finally guests were treated to simple and elegant balloon centerpieces on the tables in the tent that were a twist on the ones that lined the yard.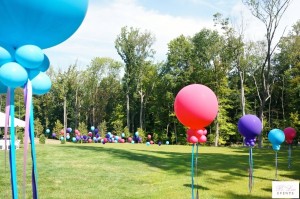 Then it was time for dessert …
Using the balloons as inspiration, we had beautiful and delicious treats created by Sweet U Off Your Feet in our color palette.  We complemented the desserts with silver glitter trays and stands and added a little humor to each treat with fun labels such as "POP bites" (brownie bites), "Balloon Bunch Krispies" (Rice Krispies treats) and "Cloud Pops" (marshmallow pops).
The simple chocolate and vanilla cupcakes were dressed up in silver glitter handcut liners and two different fondant toppers.  The first were a 3D bunch of balloons from Cakes As Canvas and the second were a number one with polka dots from Konfection Kreations all in the bright color palette.  Finally, our "WOW" factor was the beautiful balloon backdrop incorporating just one color from the color palette.  Rounding out the dessert table were delicious and colorful candies that further complimented our Balloon ONEderland theme.
Sweets Bar Tip: If your budget is tight but you still want a dessert display, consider using store bought sweets such as ready made cupcakes or whoopie pies.
This party had a range of ages with the little guests.  Our younger children took home customized coloring books, custom crayons shaped as balloons and the number 1, stickers and handmade balloon pinwheels.  The older children enjoyed Chinese yo-yo's, balloon pencils, rubber bouncey balls and Birthday Mad Libs.  The silver organza bags were tied together with an adorable favor tag that read "Thank you for 'popping' by my party!"
A fabulous time was had by all, including our adorable guest of honor.  We cannot wait until she turns two!