Around five years old, gender-mixed kids parties start to become a little more complicated.  Children have very distinct ideas about what types of parties they would like and the themes of those parties tend to become more gender specific. However at this age children still do enjoy inviting their classmates, which usually includes both boys and girls. That leaves you with the dilemma of what type of favor both genders would enjoy.
When styling a more traditionally themed party such as the ones featured above – Mermaids & Sharks and Frozen – where we had boys and girls in attendance, we decided to play a little dress up with the favors.
For the Mermaids and Sharks party, we purchased white t-shirts with rhinestone detail and small turquoise tutus for the girls from Tom Kat Studios. For the boys, we purchased plain white t-shirts and had shark iron-on decals made. To add a little more "bite" to our boy favors we purchased shark tooth necklaces from The Shark Tooth Shop.  Since the number of attendees for this party was small, we hung each child's favor up and encouraged the kids to dress for the occasion.
Frozen party themes have limitless favor ideas; however since talented artists from Applause! were performing at our Frozen party, we wanted the little ones to get into character.  3SweetK created stunning Elsa capes for the girls with a personal note from Elsa herself.  Similar to the Mermaid and Shark party, we purchased plain white t-shirts and Designs By Brinley created an adorable Olaf iron-on decal. Since there was a large number of children for this party, we neatly packaged each favor and sealed them with Frozen stickers and a shimmery ribbon.
Favor Tip #1: Purchase plain white t-shirts or embellished t-shirts for less at Target or Children's Place. Make sure you wash the t-shirts first before ironing on the decal to ensure a longer lasting picture.
Favor tip #2: Packaging does not have to be expensive or fancy. Ribbons and stickers can really bring your favors to another level. Additionally, the use of cellophane bags is an attractive way to simply package the favors and allows guests to see what they are getting.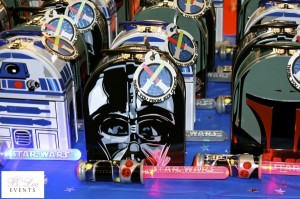 Sometimes when a child picks a familiar theme, we are able to create similar favors for boys and girls with a little twist. For a Star Wars themed birthday party, we had little treats for the kids and placed them in these amazing tin boxes from Chasing Fireflies.  Boys and girls enjoyed Star Wars Mad Libs, Star Wars Stickers, Star Wars Thumb Wrestlers and mini light-up light sabers filled with M&M's. Additionally, we had bottle cap necklaces made featuring different characters such as Luke Skywalker, Han Solo and Princess Leia.
Finally, to make a distinction between a boy favor box and a girl favor box, boys received Star Wars tattoos and The Perfect Party! created adorable Princess Leia headbands for the girls.
Favor Tip #3: To save some money on the actual favor, we would recommend investing in a more expensive package such as the tins from Chasing Fireflies but filling them with more economical options such as stickers, tattoos and printable coloring pages. Additionally, edible favors are another economical option, for example, Light Saber Pretzel Rods or Princess Leia Oreos from the amazing Lauren Walleart which we have featured on our digital display board – B. Lee Events Star Wars Pinterest Board.
Finally, when a child's birthday party theme leans more towards one gender, we like to get creative! For our Skylanders party, little ones enjoyed distinctly different favors with some crossover treats. The boys had drawstring bags with a custom Skylanders applique patch from Monas Box Supplies. The bags contained fun Skylander-esque toys such as splat balls, noise putty and witches brew. Additionally we added Skylanders masks and tattoos. The girls' favors featured make up bags in the color scheme and were filled with splat balls and noise putty as well as "Skylander" lip balms and nail polish in the color palette. Both boys and girls also received mini-water blasters with Skylander stickers attached.
Favor tip #4: To convey our party theme without spending on customization, we covered each lip balm tube in Skylander stickers.
Favor tip #5: Once again regarding economical favor packaging, consider purchasing bags from Oriental Trading Company that are attractive, practical and sturdy.
To view these favors along with the actual parties we planned, check out our digital display boards on Pinterest: