Warmer months bring more frequent celebrations – Mother's Day, Bridal Showers, Baby Showers, Graduations and, of course, Baptisms and Communions. We would like to highlight a recent Communion that we styled for a very special second grader. The event was small and intimate and the details were elegant and beautiful.
Planning Tip #1: With a smaller event, pay attention to detail. Your table setting should be unique and elegant and perhaps reflect the guest of honor's personality. Spend more on your flowers and favors to elevate the look of the event.
When throwing an intimate affair with such personal significance, convey a chic and playful tone with the invitation. An invitation that is whimsical, with stately wording conveys importance of the event but still maintains a youthful atmosphere. Tiny Prints always has tasteful and elegant invitations for every occasion.
Religious celebrations are significant in a young person's life.  Short, round and full centerpieces are a perfect way to dress up your table, but not feel too formal. These three centerpieces from Verde Custom Flowers were absolutely perfect for the occasion and shape of the table.
Since the number of attendees is small, place cards are a must. Take the time to thoughtfully place your loved ones around the table and in full viewing of the guest of honor. Menu cards also elevate the significance of the event and add a touch of sophistication to the table.
Planning Tip #2: If your number of attendees is small enough to fit at one table, we would recommend a large rectangle shape with two people at each end. This way parents can occupy one side and the guest of honor can be paired with a sibling or cousin.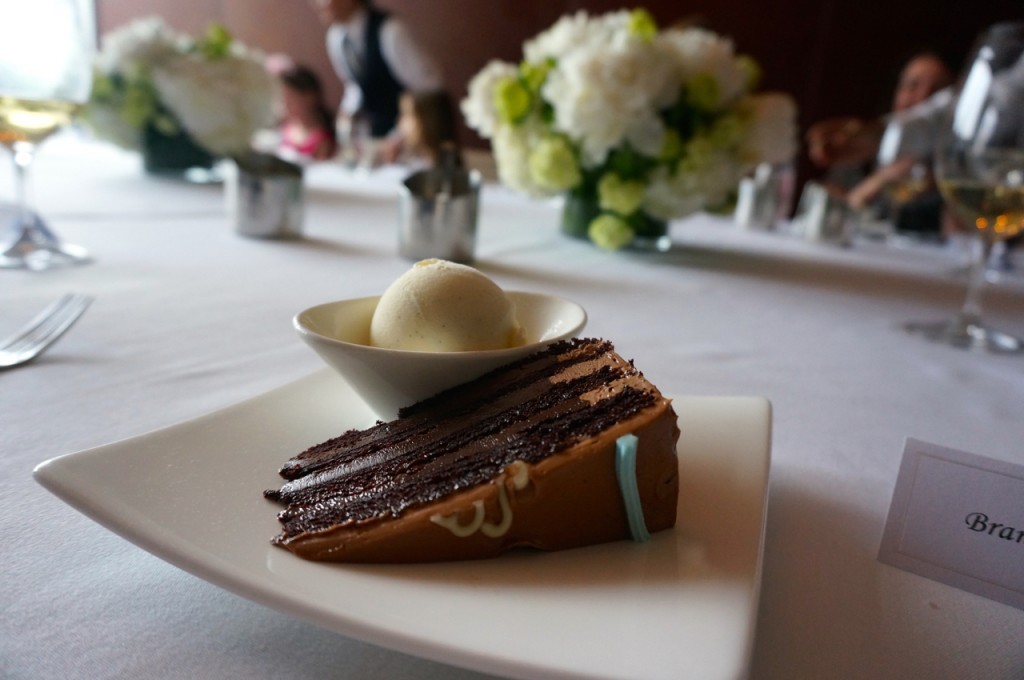 A party is not a party without cake and ice cream and a religious celebration is no exception! A beautiful cake paired with delicious gelato is sure to please all of your guests. This luscious chocolate cake was designed by the pastry chef at A Voce at Columbus Circle in New York City.
Personalized and playful favors are a perfect take home treat for your guests. These beautiful chocolate covered individually packaged Oreos from our designer on Etsy come with personalized labels.
Plus, let's not forget about the young attendees. Creating individual goodie bags for the young guests makes them feel just as special as the guest of honor.
For more party planning ideas and inspiration, please visit B. Lee Events on our website www.lceventsco.com.