We had the absolute sweetest time at the fifth annual Dessert Goals this weekend!  Attendees were treated to exquisite and unique desserts from a variety of innovative artisans.  Participating in the event inspired us on many levels and introduced us to new vendors.  While we loved EVERYTHING, we wanted to highlight some of our wonderful experiences.
Our very first stop at Dessert Goals was at Rebecca's Cake Pops.  These creations can only be described as mini works of art.  Custom designed with such incredible attention to detail (check out the taco cake pop and pancakes with bacon!). These are sure to be showstoppers at your party.  Rebecca's Cake Pops have taken it to the next level with wearable desserts! Hilarious unicorn and disco ball headbands, as well as custom cake ring pops would make fantastic favors for children's parties or a Girls Night Out! Perhaps you and the designers can take what they have already created a step further and create cake pop swords and wands.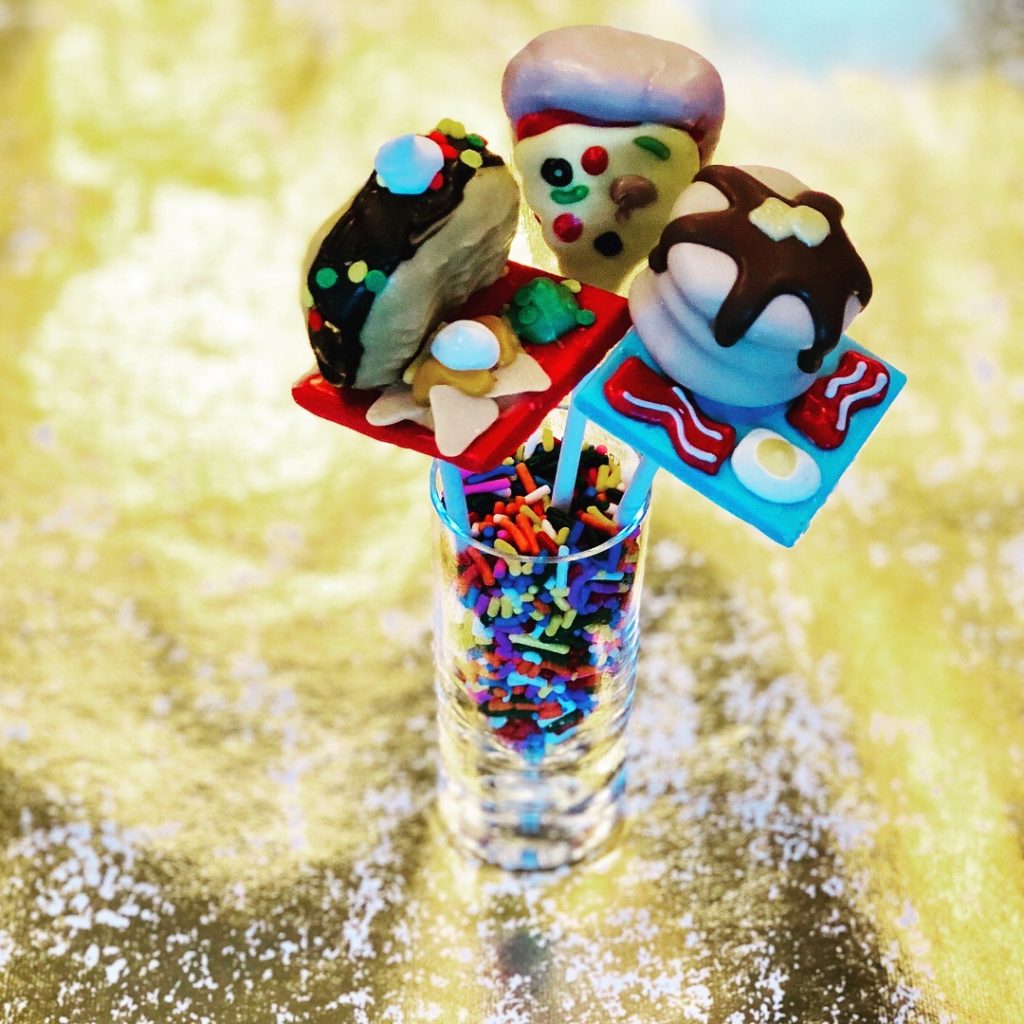 We were next drawn to the gorgeous cakes from Sugar Monster.  The remarkable detail in their Mermaid Geode encrusted cake and the true to life giant hamburger showcased their incredible range.  Sugar Monster is famous for their rainbow cake but we are very nostalgic and got a kick out of the exclusive disco twinkie that they featured for the event.  Once again, demonstrating this bakers' talents.  These cakes would elevate any occasion but would be particularly special for milestone celebrations and monumental life events (Marathon Party! Book Signing! Housewarming!) when true to life commemoration can actually be captured by this incredible artist.
We were so fortunate that Tiny Kitchen Treats was stationed right next to Sugar Monster, which only amped up our sugar rush!   Tiny Kitchen Treats handcrafts exquisite and delicious cookies that resemble little treasures.  Attention to detail and perfectionism are poured into every cookie.  These are an absolute go to for edible favors for personal and corporate parties.  Their unique take on cookie pops had us at "Hello"!  On a more personal note, we loved chatting with Marisol Morley, the owner, who is a strong supporter of female led businesses so much so that she and Ashley Holt of Sugar Monster have store fronts right next door to each other and are the best of friends.  Furthermore, both women have turned their businesses into a family affair, with sisters pitching in to promote their endeavors and even work the event-that's something we can relate to!
Despite the cold and blustery winds surrounding Sound River Studios, we couldn't resist indulging in some cold confections.  We were particularly inspired by a few vendors to create an upscale "not your average" ice cream social for a personal get together or a work related event.  New Territories NY created exclusive milkshakes with a twist that were the perfect serving size and included adorable yet edible garnishes.  We were particularly fond of their Unicorn Parade Milkshakes (vanilla bean ice cream with fruity pebbles and ovaltine ice cream blended with pie crust).  Want to turn your soiree up a notch?  Tipsy Scoop has the perfect remedy-liquor infused ice cream that tastes delicious and has a kick.  Dress the ice cream up in mini sprinkle encrusted glasses; add liquor infused gummies for a spicier garnish; or throw the ice cream in a blender and pour out some shots in a cookie cup for your guests.
Our founder Lee is an event planner with a sweet tooth, especially when it comes to cotton candy.  Her kids know that their cotton candy is fair game when she finishes her own! Brooklyn Floss brings a delicious twist to a nostalgic treat.  Unique flavors like Vanilla Lavender are aromatic, whimsical and tasty!  Additionally, Brooklyn Floss is extremely efficient when catering to its customers, amidst a packed house we stood in line for less than a minute.  Kiyomi, the owner, is able to single handedly attend to all of her guests in record time which inspires confidence when planning your next event.  This cotton candy would be a great addition to the "not your average" ice cream social party used stand alone or as a garnish on top of an ice cream sundae.
As we mentioned earlier, we had an amazing time at Dessert Goals.  We highly recommend attendance next year, to discover new vendors, unique desserts or if you just want to indulge!