Halloween is such a playful holiday. There are no obligations other than having fun and being creative! Kids and adults alike let loose and enjoy the many different treats the holiday has to offer. With so much emphasis on candy and costume, we wanted to focus on more substantial dessert offerings.
When we think of Halloween we immediately think of the kids. What are they wearing and how much candy will they consume?! However, if you are having a Halloween celebration, why not step up your offerings? This colorful and easy to make splatter bundt cake from Love Bakes Good Cakes is a perfect way to attract both adults and kids to your dessert table.
Planning Tip #1: With a special dessert like the one above, utilize it as your anchor and base the other dessert offerings (either with color or food choice) around it.
Having a dessert offering that appeals to both adults and kids is pretty rare. A trifle is an easy to assemble and always a crowd pleaser. You can dress it up with fruit or pound cake and provide theme cups to serve it in. The Graveyard Trifle from Vanessa Shaffer Designs is a perfect balance of playful and tasty. If you would prefer to have a cleaner look with your dessert table, create individual parfaits like the Pumpkin Dirt Pudding from Neighbor Food. Kids and adults can walk away with a neat little treat and no mess for you!
If you want to limit the sweets offerings at your party, provide one truly decadent dessert like the Cheesecake Oreo Brownies featured above from BruCrew Life. These brownies are rich and delicious and work well year round.
Not all offering have to be high in processed sugar! Check out these adorable and chic fruit parfaits from Suburbia Unwrapped. The mandarin oranges and pineapple are a perfect citrus boost, topped off with some light whipped cream.
Sometimes adding a little glam to the dessert table goes a long way. This beautiful devil's food cake with pumpkin butterscotch frosting from Sugar Hero will surely get your guests talking. The different colored layers and beautiful décor are sophisticated and elegant for the adults.
Design Tip #1: A cake like this deserves to be showcased with a sleek and elegant stand to not understate it's importance.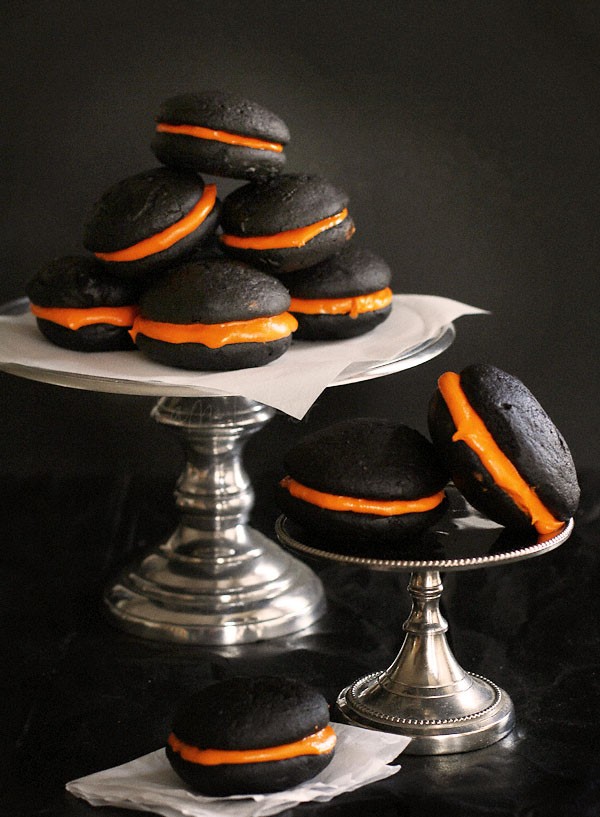 Equally beautiful are the black velvet whoopie pies from I am Baker. They black food coloring and orange marshmallow filling set these apart from your ordinary whoopee pie. They are unique and adorable, a perfect take away treat as well!
Having a thick and tasty drink will certainly be a show stopper. These beautiful and delicious Candy Corn Milkshakes from Kara's Party Ideas are a perfect addition to your dessert offerings. They can be made with ice cream or yogurt and if you want to spice up the party for the adults, why not add a little bit of your favorite alcoholic beverage!
For more Halloween dessert ideas check out our Spooky and Sweet Treats Pinterest Board.
Happy Halloween!