Have a summer birthday to celebrate? Get ready to take things outdoors! With some careful planning to prepare for any weather, you can ensure a magical, stress-free night. Our client wanted a small, personal gathering in the Hamptons which we were thrilled to design!
We loved this stunning clear top tent set up by the amazing Sperry Tents Hamptons. The clear design captured the end of day sunlight enabling guests to conclude their evening dancing under the stars. The tent was equipped with simple bistro lighting creating a soft glow all evening.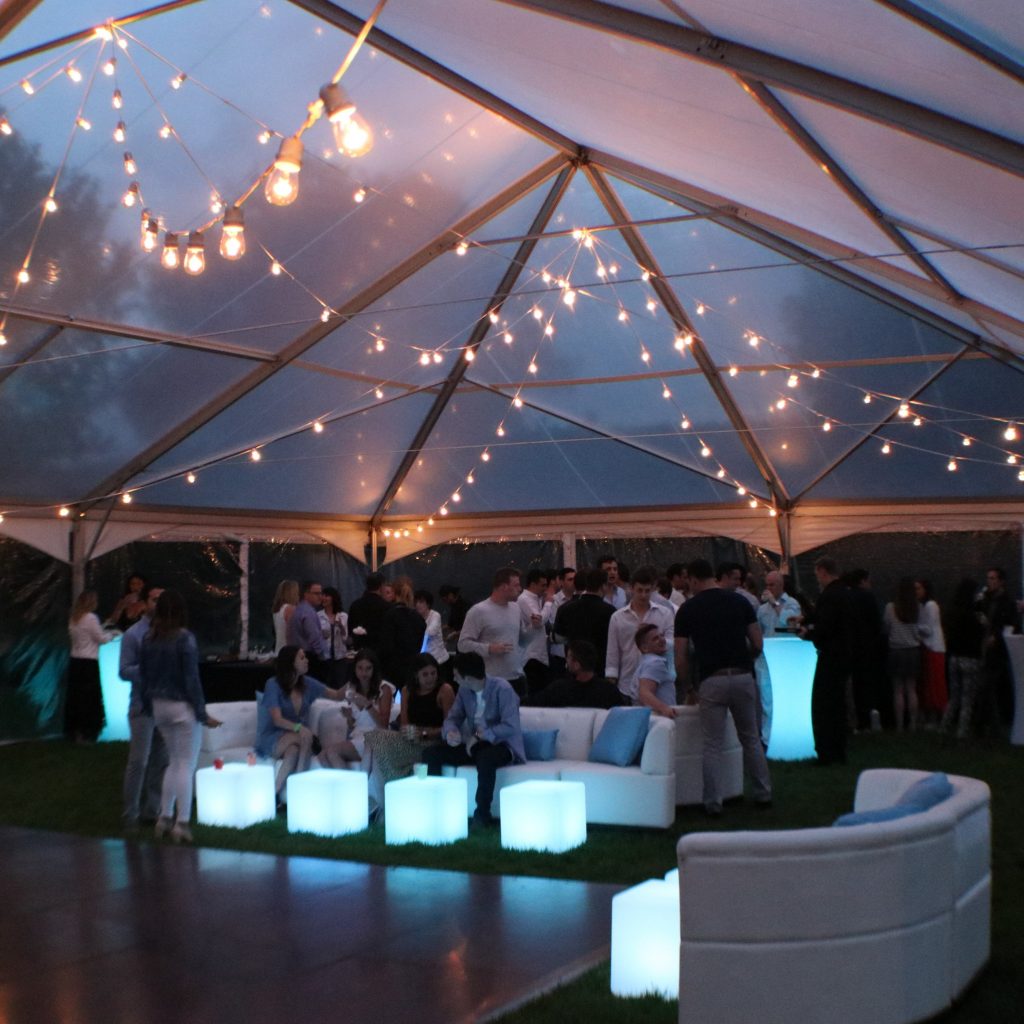 When it comes to rentals, you have many choices to formalize your theme. We created a chic look with illuminated furniture from Party Rental Ltd. While the sun was out, the white furniture popped amongst the greenery of the backyard. As the sun set, we lit them up and added some color!
We loved working with the incredible Janet O'Brien Catering and Events and her team. Janet designs creative and fun menus, makes amazing food and her team's service is impeccable. We especially loved the delicious and colorful sushi bar set up by their talented chefs.
Once again our friends OMG Photo Booths capture the party moments! Photo Booths are a fun and easy addition to any event which keep guests entertained but also allow them to leave with photo memories.
Show some creativity and dramatic flare with your birthday cake design. We cannot express HOW amazing this Game of Thrones cake was from our favorite Butterfly Bakeshop!!
Overall this was a night to remember! The evening began with a small, family gathering for photos and a champagne toast that rolled into dancing well into the evening. Happy Birthday James! We were so glad to be part of your milestone event!
Tent Rental: Sperry Tents Hamptons // IG @sperrytentshamptons
Furniture Rental: Party Rental Ltd. // IG @partyrentalltd
Caterer: Janet O'Brien Catering and Events // IG @eventshamptons
Photo Booth: OMG Photo Booths // IG @omgphotoboothsny
Cake: Butterfly Bakeshop // IG @butterflybakeshop
Photo Cred: @masphotodesign