The anticipation of having your first baby might make 9 months seem like forever. But before you know it, you are weeks away from meeting your little one and its time to prepare! What better way to lay the foundation for this new adventure in your life than with a Baby Shower! Traditional Baby Showers are lovely and have their purpose but why not provide a unique experience for yourself and your guests? If you are looking to buck the trend of pacifier bingo and toilet paper games, we have a few shower activities that are easy to execute at any budget.
A simple and sweet activity for your guests would be to create a Baby Time Capsule. Have your guests write either predictions or wishes for your little one to be opened on his/her 18th birthday. You can create your own instruction sign with a chalkboard or have a chalkboard sign designed for you. Then add decorative paper and envelopes and a special box to store and display the notes written by your guests. There is plenty of inspiration on Pinterest and wonderful artisans on Etsy, like SquishyDesignsByMe, who can assist you in the execution of the Baby Time Capsule. Hardest Part? Making sure that box stays sealed until year 18!
Can't wait until the 18th birthday? Have guests write words of encouragement or advice for you and hang them on a simple Advice Clothesline Display at the shower. This display is easy to execute and can add to the décor of the shower. At the recent City Registry Event hosted by Well Rounded, there was an activity that utilized a Clothesline Display. The words of encouragement or advice can be saved after the shower. Then take the time to read them while you are nesting – there may be some valuable tips you don't want to miss! (Photo Credit: Jonica Moore Studio)
Step this idea up and create a Baby Advice Photo Booth. Create your own backdrop using streamers, garland, fabric or decorative fans. There is a lot of inspiration to create backdrops online. Give your guests a whiteboard or chalkboard so they can write their advice. Then click and shoot! Save these moments in a beautiful album for you and your family to enjoy.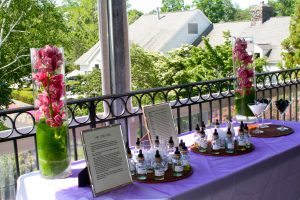 If you would like to have your guests create something memorable for themselves and try a new experience consider having a Perfume Bar at your shower. Guests can create their own scent from various oils with guidance from experienced aestheticians or from a custom guided plan. Their new scents can be packaged in beautiful bottles with a personalized label. We chose this DIY Perfume Bar by Ka-Mil-Yin at a Baby Shower we styled – set-up was beautiful and guests loved!
What expectant mother does not relish the idea of being pampered? Create a Mini Spa within your baby shower by setting up stations for guests to receive quick manicures and indulge in luxurious back rubs and hand massages. Keep the pampering short and sweet but enough to satisfy you guests. Planning Tip: We recommend steering clear of providing blowouts for your guests as they can be quite loud and time consuming.
Want more creative ideas for your upcoming Baby Shower? Contact B. Lee Events! We are a leading full service event planning, coordinating and consulting company in New York City led by sisters in law Brandy Carbone and Lisa Cokinos. After many years on Wall Street, we decided to leverage our experience and skills to bring professionalism and diligence to the event planning industry. It's our goal to simplify your event planning process and to help you create beautiful and lasting memories.
Vendor Credit:
Time Capsule Printables – SquishyDesignsByMe on Etsy
Advice Clothesline Display – Photography Credit by Jonica Moore Studio, styled by B. Lee Events for a Well Rounded NY event
Baby Advice Photo Booth – Inspiration found on Indulgy.com
Perfume Bar – Ka-Mil-Yin
Photo Credit: (Clothesline & B. Lee Materials) Jonica Moore Studio